Widening the resources available for learning Swedish
Learning a new language is more challenging the older we get regardless of our enthusiasm. English is my mother-tongue and because of that learning to speak Swedish has been easier overall as most teachers and the general population in Sweden are fairly fluent in English. There is room however for widening the resources available for learning Swedish, especially for those coming from non-English speaking countries. Once you obtain a temporary permit to live in Sweden free classes are offered by the government in every county and major cities often host several locations to choose from. SFI, meaning Svenskundervisning för invandrare, or Swedish for Immigrants is where most people start. In larger areas there is a problem however in that the student's backgrounds are so varied with so many different languages being spoken that moving forward is more likely to occur if you are a self-starter and willing to put in extra time on your own.
There are alternatives to the government sponsored program.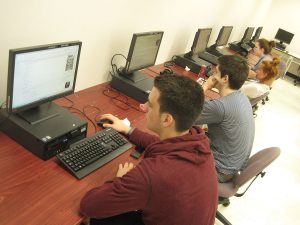 While waiting for my permit from immigration to clear I chose to study on my tourist visa at a community adult education center called Folkuniversitetet. Although one must pay, it is generally affordable to most people. The classes are interesting and often are full with students and professionals coming to Sweden to study or work and who want to get a faster paced grip on tackling their new language. In these classes one learns quickly the practical information you need to know to navigate around your community by explaining symbols, signs and how to learn Swede´s way of expressing time by the clock. In this course you also cover dialects and useful phrases to utilize right away to interact while shopping for food or navigating your way to a post office or a hospital in an emergency. I highly recommend Folkuniversitetet if you are itching to get a head start before your free SFI classes begin.
Long distance learning via on-line courses
For those who are ahead of the game and want to begin studying before you arrive in Sweden, long distance learning via on-line courses is a viable way to go. Sweol is available worldwide with introductions in a wide range of languages. Many corporations and organizations that might be relocating personnel to Sweden will cover the cost which is currently 40 euros for six months. In this online-course you will be prepared to take the Swedish National testing through the government´s program SFI once you arrive. Globally there are language learning meet-ups sponsored by The International Academy of Sweden. They offer drop-in evening conversational classes and a wide variety of times to suit your schedule. You can learn more about meet-ups foundation online. Online study via the Sweol is interesting, productive and can be conducted in your own time, a great way to get ahead in learning Swedish, online interaction goes a long way in facilitating the correct pronunciation sometimes lacking in standard language tapes.